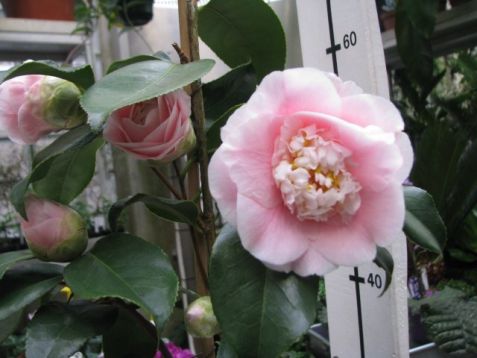 Camellia japonica "chandler elegans lauterbach"
Camellia japonica "chandler elegans lauterbach"
Kamelia someone considered as the queen of flowers. It is suitable to light up polostinné place, rather colder. During the winter, the temperature should not fall below 10 C, but short-term temperatures up to the freezing point are not camellia problem. Ideal large and bright hallway.
Requires acidic soil, like azaleas. At the time of pouring buds to bloom (December) fertilized with either slightly every 14 days, and during plant growth and the formation of buds (during the summer) each week. We use an acidic fertilizer (such as azaleas and rhododendrons). The ideal dressing is soft water.
Camellias are recommended not moving at the time of flower buds, however, the general recommendation is not strict. Information that some varieties of camellias and overwinter outdoors in our climate are unfortunately misleading. Reported lowest temperature of-18C is the temperature that a single plant survived in the short-term reduction.
We have capable of flowering camellia plants (mostly in autumn with buds).