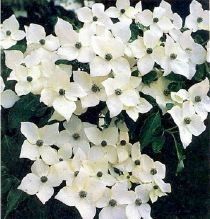 Cornus kousa "milky way"
Cornus kousa "milky way"
Minimum total price of order is €8.00.
Fully hardy shrub (cca2-4m) that blooms for a long time, because what we consider petal, are actually attractively colored bracts. White flowers appear on leafy branches and gradually increase. The leaves are dark green. Autumn is the bush more pink fleshy fruits that are edible! Absolutely underrated plant in our market.
We supply grafted plants in pots diam. 9cm.