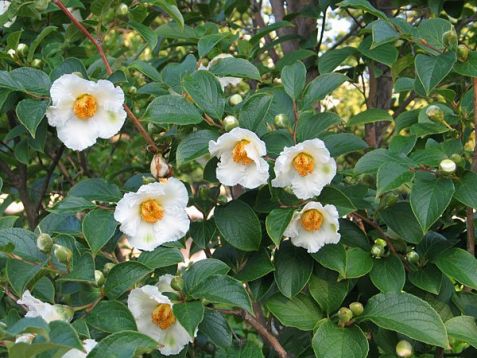 Stewartia pseudocamellia
Stewartia pseudocamellia
Minimum total price of order is €8.00.
of the genus comes from the tea plant Camellia and our new sales Stewartia. He hates wind habitat and transplanting. It is quite hardy. For us in the Highlands still unfrozen or twig. Soil as camellias and rhododendrons - acidic. Fixed a mature leaves change color in autumn red and fall off. The flowers reminiscent of a flowering tea enlargements appear from June to September. They are wonderful. Overall, shrub Stewartia larger (about 2-3 meters), but a longer shelf life blossoming twigs in a vase will slow down the eventual "unreasonable" sprawl :-) Recommended.
We supply very nice plants in 5l pots. Overall plant height is about 60 - 80 cm.